We congratulate Dr Elizabeth Opara, a contributor to Inside the Ivory Tower and Transforming the Ivory Tower on her new appointment as Head of the School of Human Sciences at London Metropolitan University.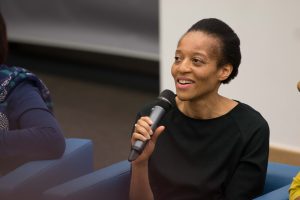 As our STEM Adviser, Dr Opara has provided invaluable insights into the under-development of Black female STEM graduates in the UK, and the lack of Black female STEM leaders in academia and industry. Her autoethnography in Inside the Ivory Tower, offers critical race and Black feminist analysis on the inequalities facing women of colour in higher education.
In Transforming the Ivory Tower, Dr Opara extends her contribution to the Ivory Tower project through a case study detailing a number of approaches she adopts to decolonise the STEM curriculum and promote racial equity in the learning, teaching and research environment.
Dr Deborah Gabriel. Founder and Director of Black British Academics, says:
"Dr Opara's knowledge, expertise and contributions to the STEM field deserve to be both valued and rewarded, as I'm sure they will be in her new role. Black British Academics and the Black Sister Network look forward to our continued collaboration on the Ivory Tower project."